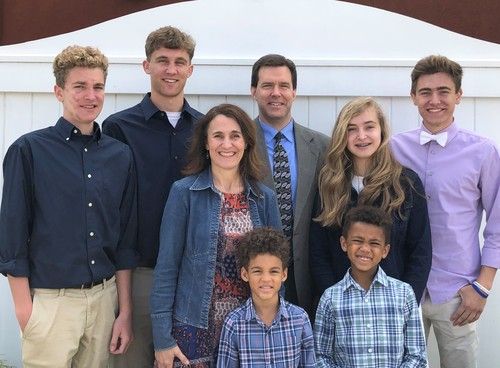 Mark graduated in May 1999 with a Master of Divinity and is finishing work on a Master of Theology from The Master's Seminary in Southern California. Before beginning ministry at Calvary Memorial (February 2001), Mark served as a Pastoral Correspondent for Grace to You - the ministry of Dr. John MacArthur, Pastor of Grace Community Church in Sun Valley, California. Mark has also served as a pastoral intern at Grace Community Church and as adjunct faculty at both The Master's College and The Master's Seminary. Mark also has degrees in Mechanical Engineering from Virginia Tech (Bachelor of Science) and the University of Florida (Master of Science). Mark has been married to his wife Melanie since 1994 and they are blessed with six children: Nathan, Timothy, Titus, Sophia, Seth, and Silas.
Chris graduated from the Virginia Military Institute in May of 1988 with a Bachelor of Arts degree in German and minors in English and International Relations. After spending a year teaching at VMI, Chris worked for 7 years in the banking industry as a branch manager and a service quality consultant. Prior to joining the staff at Calvary Memorial Church in February 2009, Chris was the Director of Customer Care for Cox Communications in Roanoke. Chris became a member at CMC in 2001 and has served as an Elder since April 2005. Chris has been married to his wife Teresa since 1988 and they are blessed with two children: David and Nathan.
Greg graduated in May 1993 with a B.A. in Business Administration (emphasis in Accounting) from The Master's College in Southern California. Before beginning ministry at Calvary Memorial (August 2007), Greg provided tax compliance and consulting services for small, medium and large public accounting firms, including Goodman & Company (now Dixon Hughes Goodman) and KPMG here in Roanoke. Greg has been the Treasurer of CMC since 2003. He has been married to his wife Windy since 2000 and they are blessed with six children: Emma, JJ, Joey, Anna, Jedi, and Zeke.
Chris graduated in 2000 with a B.S. in Business (major in Accounting) from Virginia Tech. He immediately began working at Piedmont International University in Winston-Salem, NC where he continues to serve remotely as CFO and adjunct professor. Chis was born in Roanoke and moved back to the area in 2014 after being away for 15 years. Chris has served in various lay ministry positions including youth director, treasurer, and church plant administrator. He also has a M.P.A. in Nonprofit Organizations and is in the final dissertation stage of a Ph.D. in Organizational Leadership. He has been married to Heather since 2005 and they are blessed with 3 children: Ben, Daniel, and Abigail.
Dave and his family have been attending and serving at Calvary Memorial Church since 2009, following Dave's graduation from The Southern Baptist Theological Seminary in May and transfer to the Roanoke area as a corporate chaplain in June of that year. Dave worked as a senior mechanical designer for various engineering firms across the country for several years prior to his call to the ministry. Dave earned an A.S. in Architectural Studies from McNeese State University in Lake Charles, LA (1987), a B.S. in Organizational Behavior/Applied Psychology from Albright College in Reading, PA (2002), and an M.A. in Biblical Counseling from The Southern Baptist Theological Seminary (2009). Dave's delight is helping people learn and apply biblical truths to their lives. He has been married to his wife Stacy since 1981, and they have four sons: Ben (who is married and lives in San Antonio, TX), Sean, Ian, and Evan.
Ken has a degree in Biblical Studies from Arlington Baptist College as well as Religious Education studies at Trinity Bible College. Ken and Barb have a heart for training youth to love the Lord and have been involved in youth ministries for over 30 years. Ken works as a claims manager in the insurance industry. Ken has been married to his wife Barb since 1971. She is a homemaker with a keen eye for design. Ken and Barb have been blessed with a son, Jeffrey who lives in Richmond with his wife Jenee and their 4 grandchildren, Corey, Madison, Jami, and Kaci.